We have quite a few companion only horses looking for their next soft landing. Does your horse need a pasture mate?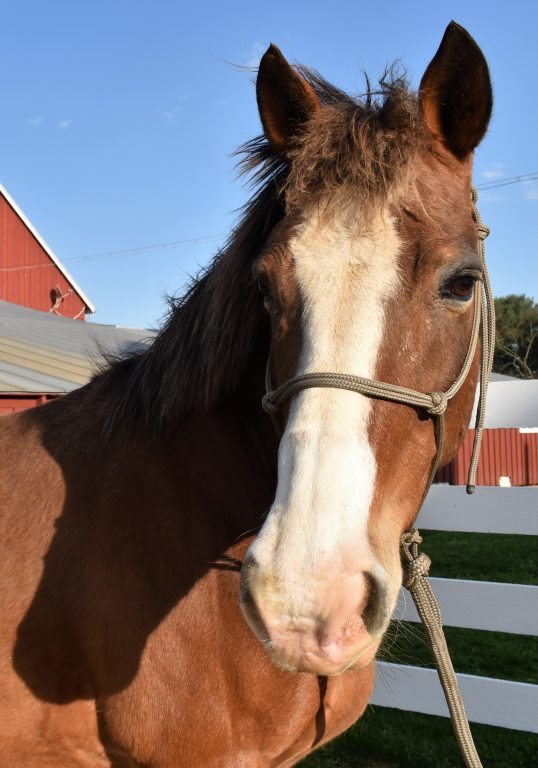 Say hi to Paco!!! Paco is a ~2001, 14.3hh grade gelding. He's gaited, so he could be a Rocky Mountain cross. Paco is personable, barefoot, up to date on all shots and dentistry, and loves his stall (so much so that he tries to get back to the barn wherever he is)! Although details about his past are unknown, it's pretty clear he was a school and/or camp pony at some point, based on his reactions to rider aids. He has been ridden in English and Western tack, though he doesn't neck rein. Arthritis in his hocks is currently managed with monthly IM Adequan, daily Equioxx, and a rider weight limit of 115 pounds; he's also on daily Prascend and wears a grazing muzzle during turnout. His current owner is a beginner, and she's had some fun rides on this little firecracker! Paco most enjoys working in an arena; on the trail, he can get a bit spooky. His excellent ground manners make him be best suited for an advanced beginner handler, but he needs an intermediate/advanced rider (or someone working closely with a trainer) to bring out the good behavior.
His current owner is offering a trial period to the perfect home, and she's willing to continue paying for his hock medications.

*Update from owner; Paco would do best on lusher paddock with plentiful grazing. He is looking for a home that has exceptional Stable Management practices like; daily grain, fly spraying and blanketing etc. Paco would be best suited as a companion horse and/ or a walking, trotting horse only with an experienced rider, not over 115 lbs. He could also be used for trail rides on flat surfaces.*

To apply for Paco, go to: https://mdequinetransition.org/horses/paco/

Are you looking for your next equine partner? Check out all our available horses in the link below and inquire for more info. We could be posting about your success story next!
https://mdequinetransition.org/horses/