Some positive news for Blackie!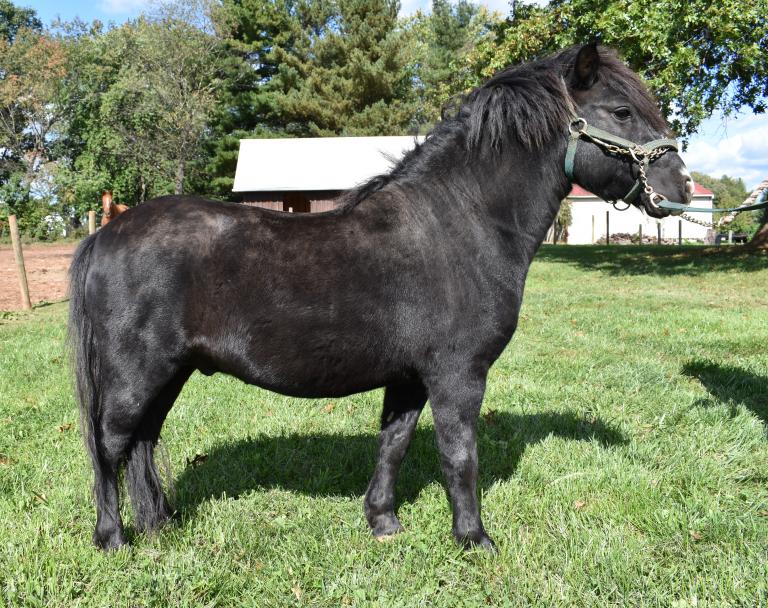 Blackie is quite a special little guy, but is also in dire need of a new home. Blackie is a cryptorchid pony. What is cryptorchid? A horse is considered to be a cryptorchid (also known as a rig or ridgling) if one or both testes are not fully descended into the scrotum. When Blackie was gelded, it was not 100% successful and has left a rather significant issue in which a 'pocket' was formed in front of his sheath causing him to not urinate correctly. The urine also causes ulcers to the skin and much discomfort. In order to correct this, Blackie will need surgery. But don't let the surgery cost scare you away from Blackie just yet…
The Maryland Fund For Horses has graciously offered to fund Blackie's surgery! The MFFH focuses on identifying issues with equine welfare in our state, envisioning innovative solutions, and implementing those solutions through cooperation and collaboration with the equine community. We thank the MFFH for funding Blackie's surgery and giving him a chance! Once a new owner is lined up Blackie, he will be able to have his surgery.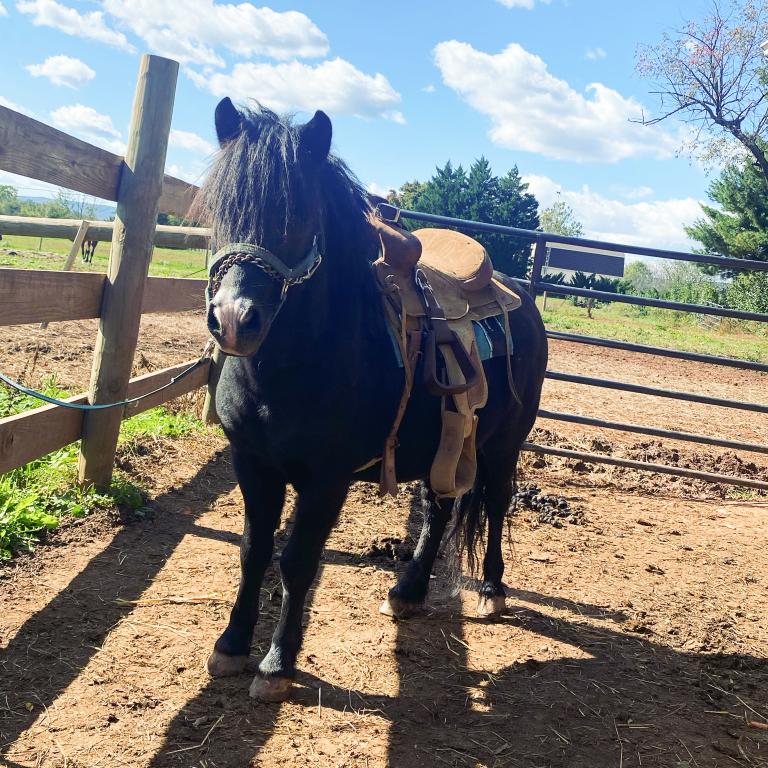 This little fella is larger than life and has so much potential. He is so nicely put together and a total stunner. He's a 2016 Mini and standing around 10hh, maybe a hand taller. This lovely little guy has been owned by his current person since January 2021. It is thought that he is an Amish pony and possibly has had driving experience. He's had 60-day professional training and enjoyed working with his 10 yr old little boy. His owner feels he would be best suited to having a job. He's young and has tons to give. He is bright and thoughtful. He'd make a phenomenal lesson pony after a tune up and addressing his more immediate needs.
 
Due to Blackie's current health crisis, he has not been routinely worked since coming home from his initial training when he first arrived. He is currently quite nervous, especially about his hind end which is completely understandable. He also has had some challenges with one of his larger and dominate herd mates being aggressive with him, so he has to be in a smaller private turnout spot. He seems to be a little bored, which is leading to some challenging behaviors such as trying to open gates and being a bundle of nervous energy when his owner is trying to lead him etc. Thankfully as we have a good history from his 60-day training, we know that with work he is actually a wonderful solid citizen for all handling and ridden activities. He's a little diamond for sure.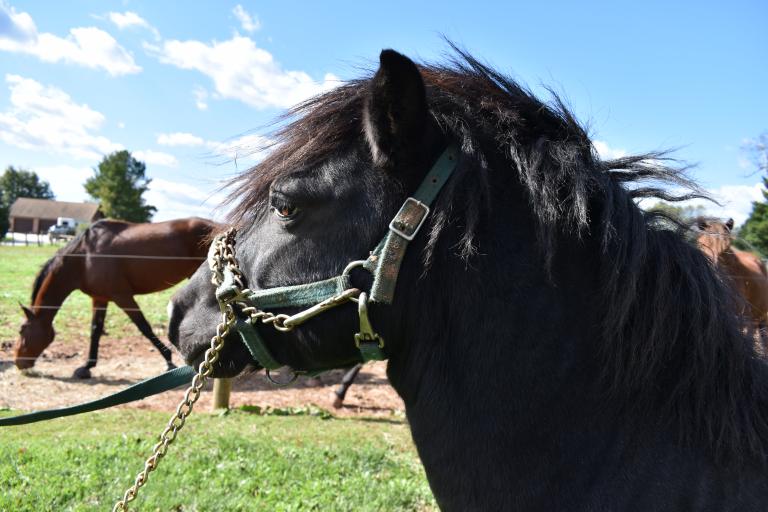 Although nervous he really did maintain his composure and showed no kicking, biting etc. He did become agitated for the lunging and trotting in hand but with a little time, patience and most importantly trust, he'll be back to the pony he was destined to be.
While on his 60 day training he was able to be turned out with other geldings. After his surgery he will likely be fine with mares too. He is up to date with the farrier, dentist, vet visit, Coggins and most vaccinations. He is barefoot and an easy keeper. He needs room to move and a little time readjust.
Interest in Blackie? Let us know or apply for him at:

We had a great time at Morningside Stables this past Sunday, October 24th! Thank you to the owner and their staff for allowing us to have a table there, spreading the word about METS and raising donations!

A huge thank you Misty Meadow Stables for raising donations for METS at their tack swap this past Sunday, October 24th! As a non-profit that benefits from donations, we value all those who support METS and help keep us operating!

Every year on the Tuesday after Thanksgiving, people take the time to kick off the holiday season by giving back to their community. Whether it is donating money to a charitable cause or volunteering, Giving Tuesday is a day set to benefit the community.

Non Profits, like METS, often rely solely on Donations and Grants.

Here's how you can help us…

1) Become a Volunteer – Join us for Assessments, Help us at Events, Donate Your Skills

2) Donate directly to us through our site. We have a bunch of options like donate one time or setting up a monthly plan ~ Every Penny counts!

3) Link your Amazon to us – Did you know you can donate to METS through the Amazon Smile program? Click the red box below to  learn more!

The Maryland Equine Transition Service is a 501(c)(3) organization, which means we are a non-profit. Horses in need of transition come in every shape, size, breed, color, age, training level, and temperament. METS provides individualized services for these horses, including equine assessment, marketing assistance, end-of-life support, and facilitating the transition of horses to new homes. Your generous donation can help METS operate and continue offering these special services to both owners and horses in need!
To make a donation, click here!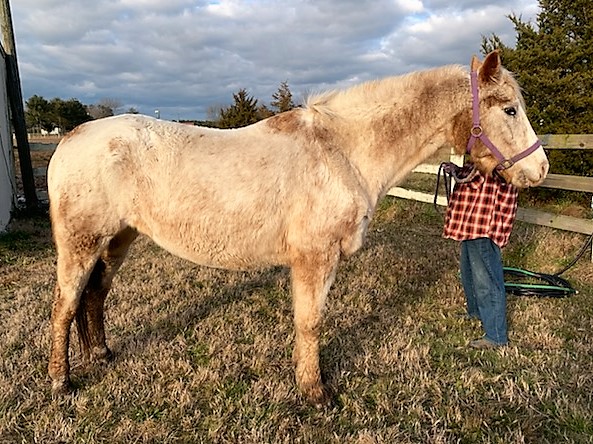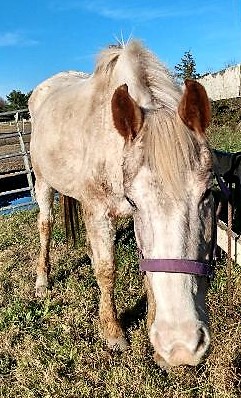 Morning Glory, a 1999, 15hh Appaloosa mare, is looking for a new home! While she is well behaved on the ground, Morning Glory is green under saddle. Because of this, she's best suited for an advanced rider/trainer, or someone working closely with the same. Morning Glory has no health issues, is sound and barefoot, and is up to date on vaccines (Coggins will be obtained before she moves). Morning Glory is currently turned out 24/7 with a gelding, and she's generally submissive in the field. This sweet, middle-aged mare is looking for a home that will be patient and understanding with her, teaching her how to be a good equine citizen under saddle. She's got unlimited potential!

Interested in Morning Glory? Let us know to apply for her at:
https://mdequinetransition.org/horses/morning-glory/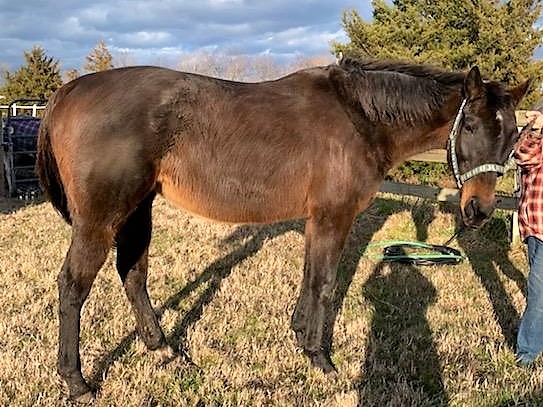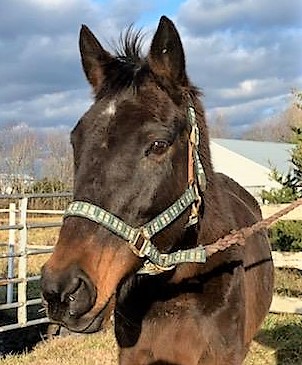 Always Meggie ("Meggie)" is a 1998, 16hh Thoroughbred mare looking for her next home. She earned almost $30,000 on the track before retiring to her current home. She's quite well behaved on the ground, but she's green under saddle, having never had consistent training after her race days. Meggie is sound, barefoot, and up to date on all vaccines (Coggins will be obtained before she's moved). She's best suited for an advanced rider/trainer, or someone working closely with the same. She's currently turned out 24/7 with a mare, though she has been out with geldings in the past with no issues. She is quite dominant in the herd. If you're looking for a training project, Meggie might be your girl!

Interested in Meggie? Let us know or apply for her at:
https://mdequinetransition.org/horses/always-meggie-meggie/

Are you looking for your next equine partner? Check out all our available horses in the link below and inquire for more info. We could be posting about your success story next!
https://mdequinetransition.org/horses/
Would you, your organization, or your business like to take a stand against slaughter as well as give back to the MD horse community by having METS as a beneficiary?