These Awesome Horses,
Of All Types & Ability,
Have Recently Been Placed


~ Khalessi ~ Romeo ~ Archie ~
~ Buddy ~ Missy ~ Denver ~

Each of their stories are very different. METS thrives on the belief that there really IS a perfect home for EVERY horse

We wish them all safe, happy and an enjoyable life with their new people

Sunday October 24th!
The Maryland Equine Transition Service is one of the charities that benefits from the MOHSS shows!
We are so grateful for the support. Check out the link below to learn more about their awesome show series

Every year on the Tuesday after Thanksgiving, people take the time to kick off the holiday season by giving back to their community. Whether it is donating money to a charitable cause or volunteering, Giving Tuesday is a day set to benefit the community.

Non Profits, like METS, often rely solely on Donations and Grants.

Here's how you can help us…

1) Become a Volunteer – Join us for Assessments, Help us at Events, Donate Your Skills

2) Donate directly to us through our site. We have a bunch of options like donate one time or setting up a monthly plan ~ Every Penny counts!

3) Link your Amazon to us – Did you know you can donate to METS through the Amazon Smile program? Click the red box below to  learn more!

The Maryland Equine Transition Service is a 501(c)(3) organization, which means we are a non-profit. Horses in need of transition come in every shape, size, breed, color, age, training level, and temperament. METS provides individualized services for these horses, including equine assessment, marketing assistance, end-of-life support, and facilitating the transition of horses to new homes. Your generous donation can help METS operate and continue offering these special services to both owners and horses in need!
To make a donation, click here!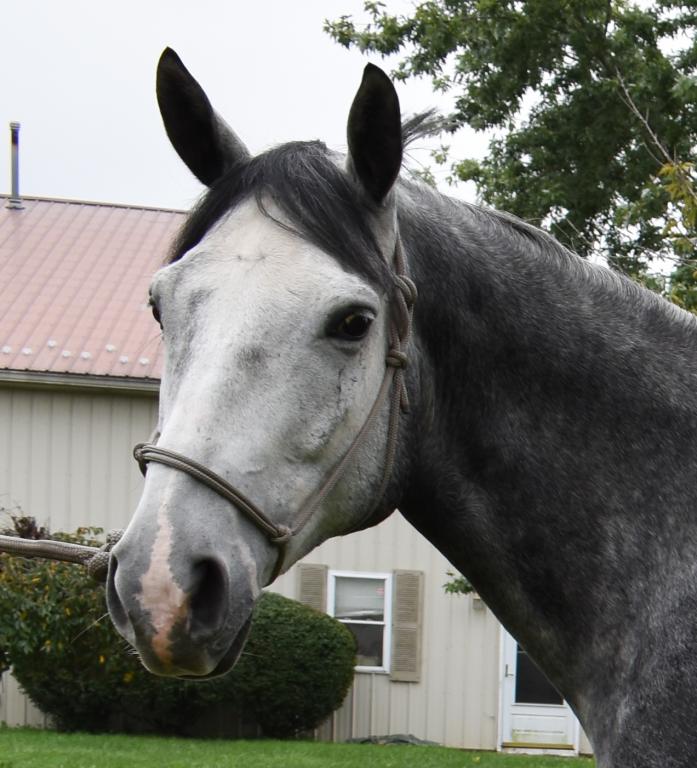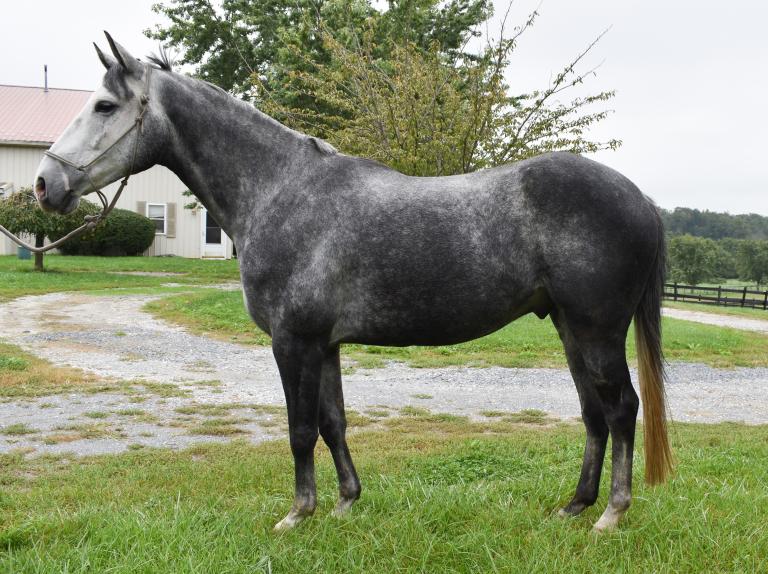 JJ is a 2014 TB, standing at stocky 15.1hh tall. This beautifully handsome chap would be a lovely horse to add to a home looking for a magnificent companion to both horses and humans. He is endearing, friendly and a true joy to be around.
 
He is well-behaved and very levelheaded. He has had extensive groundwork and handling that has created a super solid citizen. He will be looking for a non-riding home and someone that can continue to enjoy him while providing a safe and loving place to be at.
 
JJ is in great health overall, is on no medication and is an easy keeper. Sadly, he was diagnosed with Kissing Spine not long after his owner took him on a year ago. She spent a great deal of time, energy and resources to help diagnose and remedy the situation. The result is that he is no longer safe or comfortable for ridden work. He becomes tense, spooky and bolts, even with an experienced trainer on board. It's such a heartbreaking scenario for both he and his owner. It is clear that he is such a phenomenal horse.
 
He is super for haltering, grooming, leading, general handling, crossties and lunging. He is bright and alert but mature in his disposition. He moved well on the lunge at all three paces. He was obedient and steady. He did not display and sort of discomfort or behavioral issues at all during our visit.
 
JJ currently lives at a farm that provides 12 hrs of turnout. Daytime in the cooler months and nighttime for the summertime. He would likely thrive in a 24hr turnout situation too. He is a playful member of the herd and is only suited to turnout with other geldings. He is neutral in the pecking order. He is up to date with the farrier, dentist, vet visit, Coggins and vaccinations. He comes with blankets and vet records.

If you are interested in JJ click below!
https://mdequinetransition.org/horses/jj/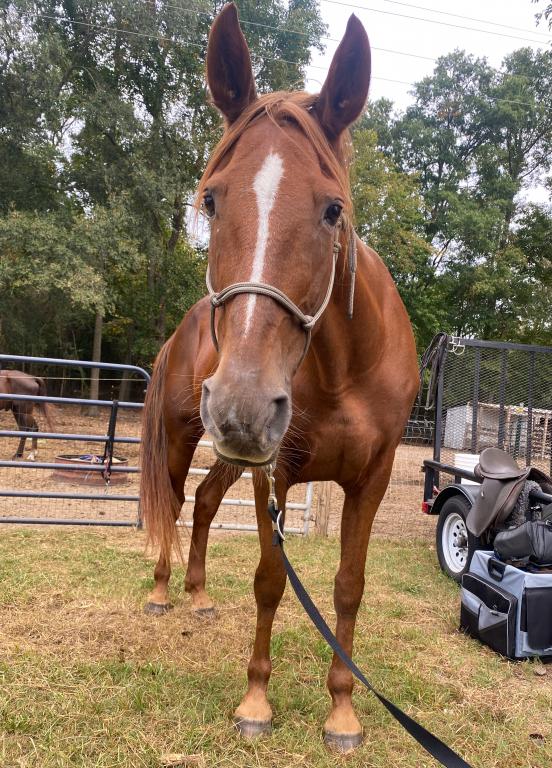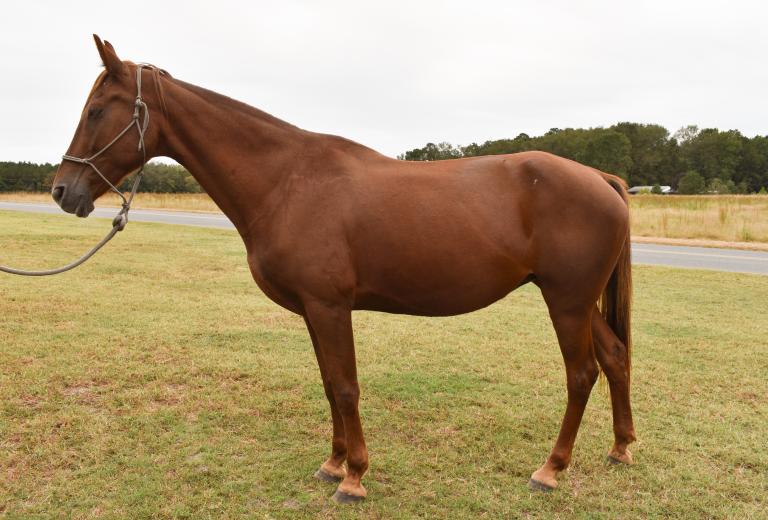 Merit is a sweet and eager TWH chestnut mare that was a kill pen rescue, back in December 2020. She was very nervous, underweight and unable to be caught when she first arrived. This girl does however have a ton of potential. She's been started under saddle and is green, but her brightness, intelligence and ability will take her far. She is gaited but will walk, trot and canter under saddle.
 
She is wary of people and being asked to work, but once she settles into her rhythm, she relaxes a little more and switches to a steadier disposition. With the right home that provides safe, quality education, time, love and care, she will likely flourish and become a wonderful riding partner. She would be best suited to an intermediate/advanced rider with a trainer. She would not be a candidate for a lesson program at this time.
 
Merit is 100% sound with no health concerns. She is familiar will children, teens and various farm animals such as turkeys, chickens, goats and sheep. She clearly has a strong desire to please and a heart to do her very best. She has most success in a bitless bridle and now responds well to voice commands in and out of the saddle.
 
She was quite funny about having her photos taken. She insisted on NOT smiling for the camera and instead showed us her best 'mare stare'. She really brightened up as the assessment progressed (and she got to know us). She finally agreed to at least put her ears forward a few times. This may or may not have involved treats and a special App that makes horse whinnying sounds! She LOVES carrots.
 
Merit lives at a lovely farmette with a small number of farm animals and other horses. She can be turned out with geldings or mares and is neutral in the pecking order. She is good with the farrier and is barefoot. She is up to date with dentist, farrier, wellness checks, Coggins and most shots.  Her owner would consider out of state for the right home.

If you are interested in Merit click her link below!
https://mdequinetransition.org/horses/merit/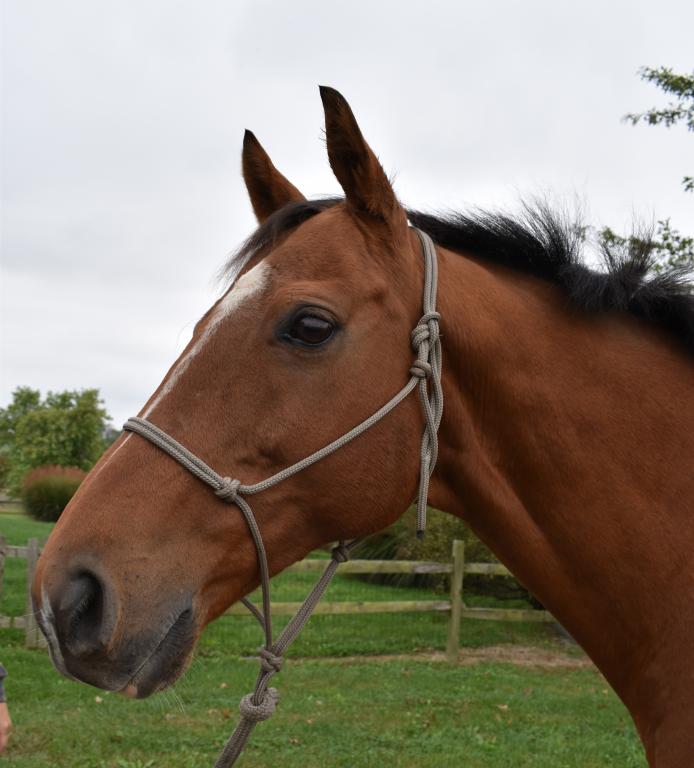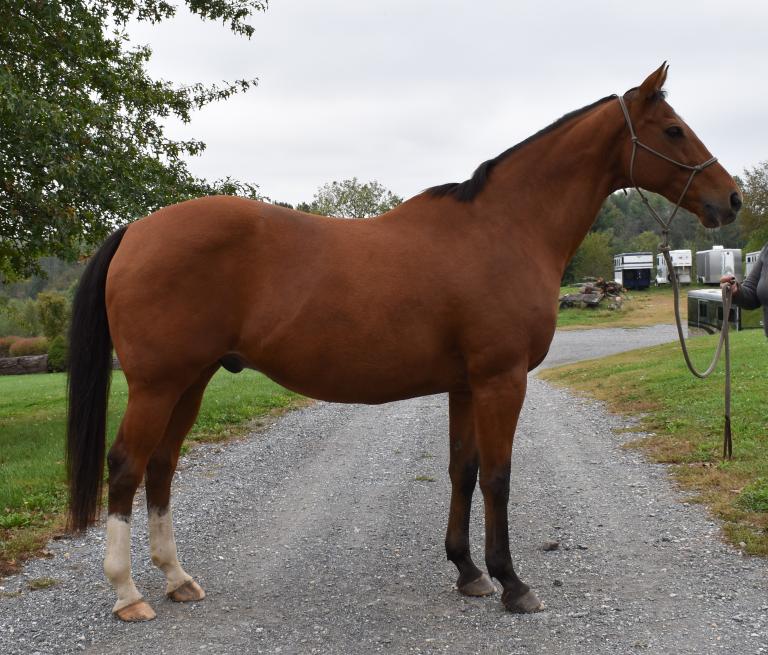 Mambo!!!! This sturdy 2008, 15.3hh OTTB gelding is going to be a super fun and super special horse for someone. He is cool, collected and a real sweetheart. He of course is still a TB and really brightens up once tacked and heading out to work. He is playful and full of life, but in all the ways you would wish from a truly wonderful equine partner.
 
He's looking for an intermediate + rider to bring him back up to fitness, and head out into the world in whichever direction they wish. He'd likely make a lovely lower-level eventing horse, with the brain and ability that is desirable for this sport. Equally, he may also fit in well with the hunter or dressage world. Overall, he's just a fun and pleasant guy to spend time with.
 
Mambo is in great health overall, is on no medication and is generally an easy keeper. He is however not a fan of cold wet weather and needs to be partially stalled, as opposed to 24hr turnout. He is currently shod all round for support. He can however go without hind shoes but tends to be more balanced behind when shod all round and in full work.
 
Mambo has a history of racing and then a second career focus on dressage, including showing. Moves well at the walk tor and canter. He showed few bunny hops from excitement after being off for 3 days. Nothing we saw was any cause for alarm for the appropriate level of rider and handler. He was not mean or deliberate. He will be needing fitness and routine work after being of for some time (due to lack of time).
 
He was super for haltering, grooming, leading (apart from one little blip and going for the grass), general handling and crossties. He's super sweet and calm in the stall and grooming area. He stood obediently, unsecured, with his stall door open while he waited for mom to bring more cookies and his brushes. He's a total lovebug for sure.
 
Mambo currently has partial turnout which is adjusted according to the weather. He goes out with a small group of geldings. He is neutral in the pecking order. He is up to date with the farrier, dentist, vet visit, Coggins and most vaccinations.

Click below if you are interested in Mambo!
https://mdequinetransition.org/horses/mambo/

Are you looking for your next equine partner? Check out all our available horses in the link below and inquire for more info. We could be posting about your success story next!
https://mdequinetransition.org/horses/
Would you, your organization, or your business like to take a stand against slaughter as well as give back to the MD horse community by having METS as a beneficiary?