THANK YOU 
We have been beyond impressed and amazed by all of the kind support and attention METS has been receiving recently!
From volunteers giving their precious time, to horse owners trusting us to share their horses with the world, and then those of you that have been able to nobly take on one of our METS horses.
It often feels like a vulnerable situation to open up your home, farm and horse with us when reaching out for our assistance. METS strives for full transparency and we can't thank you enough for allowing us to transition your beloved equine partner. 
We assist with the transition of all sorts of horses, each one is special and unique. We have seen an increase in lovely ridable horses, which has drawn so much great attention to us. In turn, this draws attention to ALL of our horses, including our more in-need, companion only horses. This attention is vital to those horses. The word and work of METS is spreading far and wide – because or YOU!
All of us at METS would like to extend a heartfelt thank you to all the individuals that are involved in what we do. You are amazing and we hope you know just how important you truly are. 
We currently have 11 unlimited potential horses listed on our website!
Scroll down to see which horses are in this week's spotlight!

Browbands For Charity
 
From Browband maker, Leslie Raulin:
"I like bling!  I have never found a browband that has the right colors and enough bling.  So, I decided to make one.  It was so much fun, I made another one.  Then I made another, and another.  I gave some to friends, who mostly liked them.  I am now making very blingy, a little blingy, subdued (colors but no bling), and whimsical browbands.  I am offering them to equestrians as another way to donate to the same charities as my FADS shows – the cost covers materials ($ goes to me) and a donation ($ goes to one of four charities that you designate).

Some of the browbands are ready-made; others can be custom ordered with your show color(s) and/or your favorite color(s).

Since the Beta Biothane browbands have snaps, it is easy to exchange browbands on the bridle – all the more reason to get multiple browbands!

Do you have a Pas de Deux or Quadrille or club with color themes?  Get browbands to match your theme.

I hope you like the browbands and enjoy donating to the designated charities."

We can't thank Ms. Raulin and FADS enough for their continued support of METS!

Click the link below to find your perfect browband that gives back to METS with every purchase!

http://www.frederickdressage.org/brow-bands-for-charities.html


Benefit Tack Sale!
Tack Sale on Sun Oct 24th to benefit METS!
Looking to sell or buy? 
Come visit and see what's available or set up a table to benefit METS!
There will be new & used tack, riding clothes, horse books, etc. 
For a $15 donation to METS, sellers get space in the well-ventilated indoor arena.
You must however provide your own table & chairs & reserve your space in advance.
The Tack Sale will take place, rain or shine at Misty Meadow Stables located at 2031 Millers Mill Rd. in Cooksville from 10-3, but vendors may come after 8:30 to set up.
Please contact host Terri Minford by email at ponymom@yahoo.com 
to reserve your spot ASAP!
Would you, your organization, or your business like to take a stand against slaughter as well as give back to the MD horse community by having METS as a beneficiary?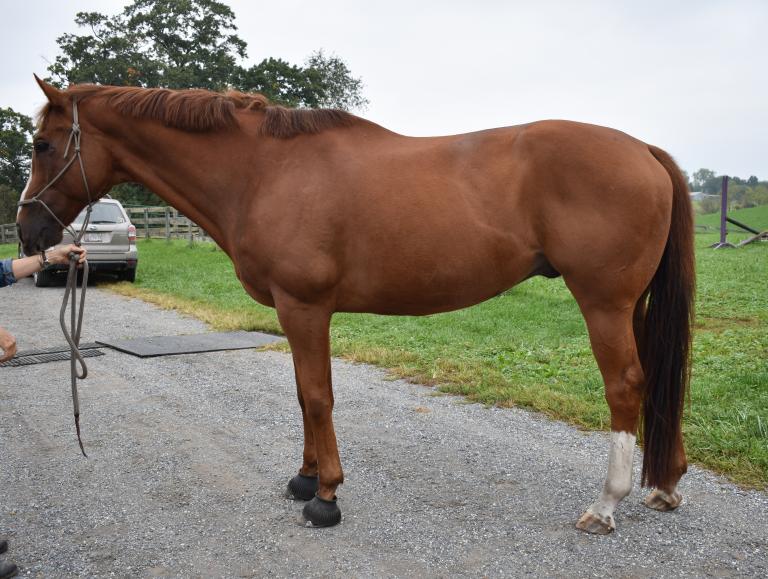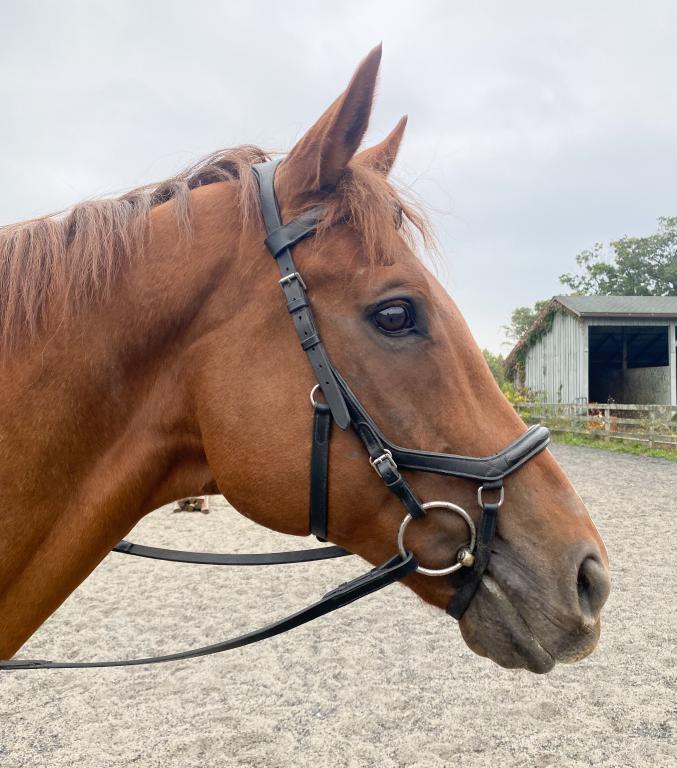 Bold is going to make someone a very happy and very lucky person! He was born in 2008 and is a 16.3hh OTTB. This handsome chap is charismatic, pleasant and a little bit of a joker. He's the kind of horse that will love and adore his person but only if he picks them himself. He is super level-headed but of course, is still a fun and bright TB. His owner would like to see him go to an active farm where he would have one or maybe two riders routinely working with him. At this point, lesson programs will not be considered as they will likely not be the best match for him. 
 
 He is talented and skilled under saddle, making him a lovely candidate for an intermediate rider to excel at dressage while also enjoying Bold's favorite activity, trail riding. During our assessment, we saw him offer self-carriage and lateral work. He has a super work ethic, is rhymical, balanced, and very willing. He appears to be a very enjoyable horse to work with. His main love is getting out and hitting the trails. He would spend his whole day wandering out in the fields, trotting, cantering, and even likely suited to still popping of a few logs here and there.
 
Bold, overall is in very good health and would be considered an easy keeper of sorts. In 2015 however, he did 'Road Founder'. He wears shoes with pads and takes a small amount of daily medication to assist with prevention and maintenance. The founder will require avoiding tough ground for hard and fast work. He will need to be mindfully worked to prevent discomfort and soundness issues. Slow and steady in his training and fitness plan will be a winning recipe. 
 
He goes in a simple snaffle and is easy and polite. He is still a TB and will get a little more animated in certain situations. He's mostly laid back but sometimes puts in a little bunny hop. He sometimes will scoot forwards if surprised from behind but is not fazed by things like turkeys popping up or his cow neighbors watching him over the fence while he works in the ring. He can be worked with others or head out alone with no issues. 
 
Bold is best in a gelding-only herd. He tends to be a bit of a ladies' man and draw mares to him like a magnet. He is fine to be kept next to mares in the field or stall. He does like to show off his typical TB gelding skills by engaging in lots of play with his herd mates. He is more dominant but not mean on nasty in any way. He is used to turnout daily that changes with the season appropriately. 
 
He is up to date with shots, vet visits, Coggins, dentist, and farrier. He will need to be shod in front with pads by a kind, patient, and educated farrier. His owner will prefer Bold to stay in MD but may consider an out-of-state home for the right person. 

If you are interested in Bold click below!
http://https://mdequinetransition.org/horses/bold/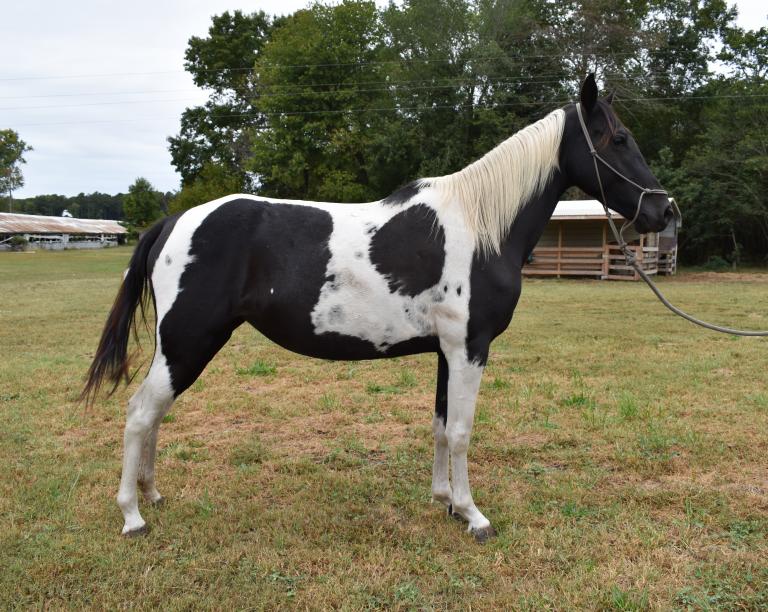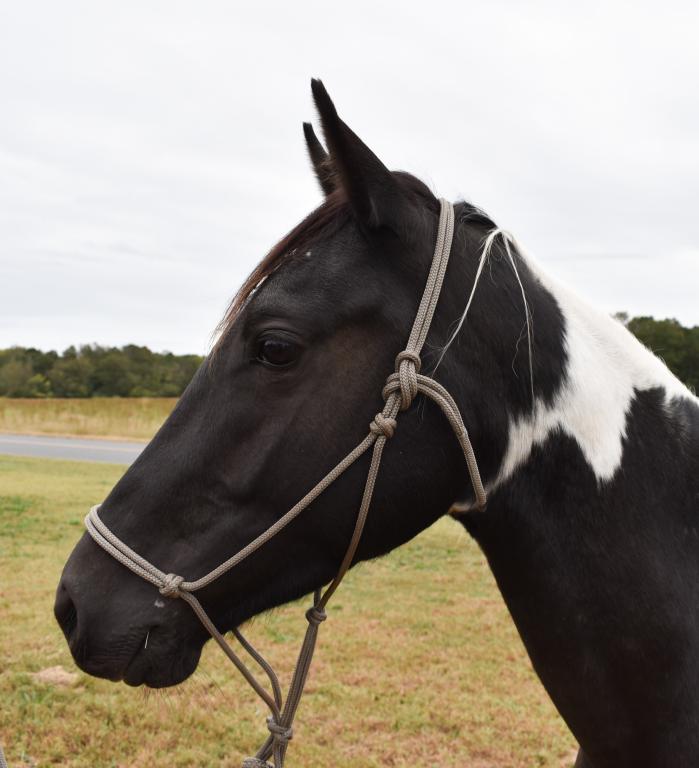 Kitt is a lovely little young mare that was a kill pen rescue, back in December 2020. She is sweetly put together and standing at 14.1hh currently. She is of a more nervous and untrusting disposition due to her background. She was recused with another horse that appears to be her mother. Her mother is truly phenomenal, with a level head, toting around an 8 yr old boy at Western Shows. With time, skill and patience, it is expected that Kitt will follow closely in her mother's footsteps. Her owner would like to see her go to a trainer-only home where she can be carefully directed and guided in the correct way. 
 
Kitt is 100% sound with no health concerns. She is definitely a true project horse and exhibits behaviors such as being tricky and skittish to catch, halter, lead, etc. She is incredibly scared of the farrier, needs sedation, and will not tolerate having her feet picked at all at this time. She has not been taught to tie up and requires a very gentle touch with all handling. She is however desensitized to tarps, lead ropes/lines, whips, bags, spray, and grooming. She is familiar will children, teens and various farm animals such as turkeys, chickens, goats, and sheep. 
 
When she arrived, she was completely unhandled. Her current owners have done a marvelous job of helping her to gain weight and build some trust. She is quick to learn, has a sweet disposition, and is very inquisitive. Her go-to when scared is to stop, back up, and pulling up and away. She is sometimes hard to keep a hold of when she is in that particular frame of mind. 
 
Kitt lives in a lovely little paddock with a small number of farm animals and two other horses. She can be turned out with geldings or mares but is dominant and food aggressive at feeding times. This tends to be common with rescued kill pen horses where food may be scarce.
 
Kitt is in need of a patient and kind farrier, and therefore significant hoof care and remedy. She is barefoot and untrimmed. She will also need her shots, dental work, and Coggins taken care of. 

Her owner would consider out of state for the right home. 

If you are interested in Kitt click her link below!
https://mdequinetransition.org/horses/kitt/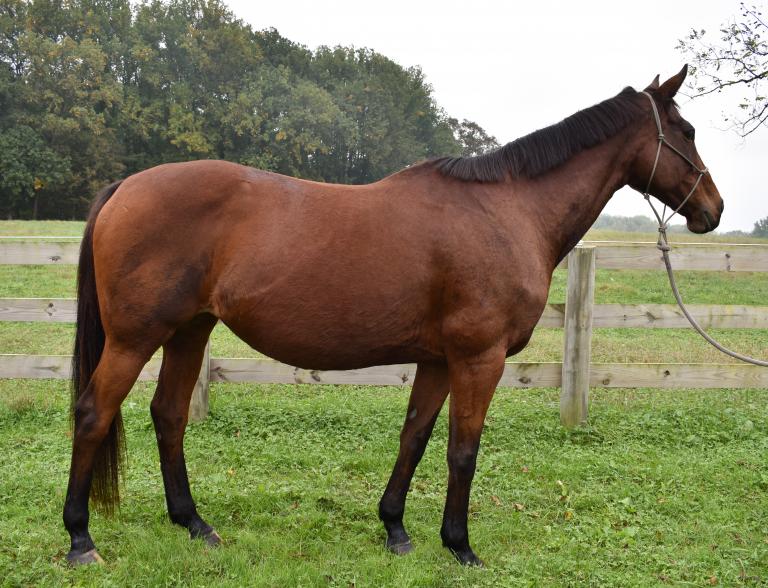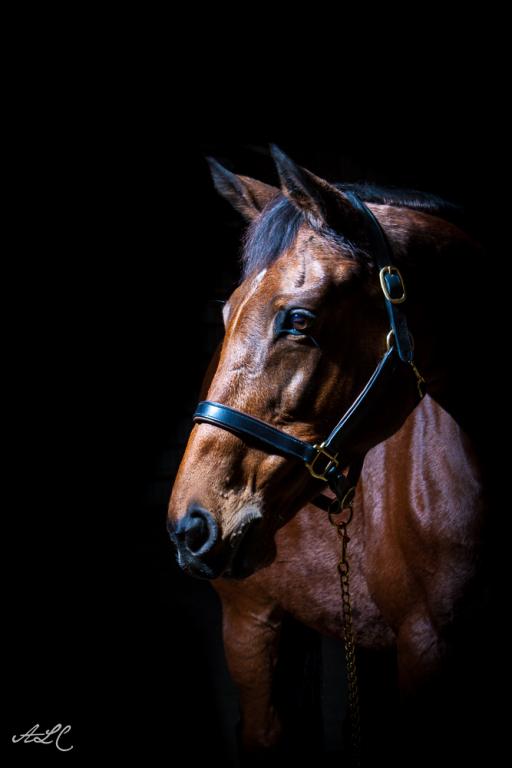 Spice is a rather lovely and very sweet Thoroughbred Mare. Born in 2003 and standing at 16hh. This gentle and kind lady is as easy as they come. She has a history of dressage and trail riding and has been with her current owner since she was 5 years old. 
She has lived a wonderful life where she has been pampered and adored thoroughly.  She is looking for a special home where she can become a wonderful companion to another horse or two and her new human being. Due to her beautiful conformation, movement and disposition, she may also be a super broodmare prospect. Spice is beyond gentle and easy to handle. She is very easy to catch, halter, groom, and for general handling. She is very polite and willing. She is calm and a true pleasure to spend time with. 
Spice was diagnosed with EPM in 2019. Later in 2020, after initial treatments, she had some internment lameness in her front left. At this same time, it was discussed that she may well also have Kissing Spine. A second opinion, with an overview of x-rays, felt that her aliments more so coincided with EPM. Her dedicated owner has poured all of her time, effort, and resources into helping her to become sound for riding. Sadly, all of her hard work has not currently resolved the situation. 
She is an easy keeper, is extremely calm, loves bath time and being pampered. She enjoys the company of a nice quite gelding but has been out with mares too. She tends to do better with a smaller and kinder group of horses. She is a huge fan of her stall but more recently has made the switch to field boarding. 
Spice is currently shod all around. She may well be fine to transition the no shoes behind as her hoof quality is fairly great. She is up to date with shots, dental visits, and Coggins. Her owner is willing to consider out of State to the right home. Medical records can be provided with the owner's consent only to fully screened applicants.  

Are you looking for your next equine partner? Check out all our available horses in the link below and inquire for more info. We could be posting about your success story next!
https://mdequinetransition.org/horses/

The Maryland Equine Transition Service is a 501(c)(3) organization, which means we are a non-profit. Horses in need of transition come in every shape, size, breed, color, age, training level, and temperament. METS provides individualized services for these horses, including equine assessment, marketing assistance, end-of-life support, and facilitating the transition of horses to new homes. Your generous donation can help METS operate and continue offering these special services to both owners and horses in need!
To make a donation, click here!