Happy Fall Yall! So many fun and exciting events coming up for METS. If you did not get a chance to hang out with us this Summer, we have you covered this Fall. Stop by and visit us at any of the upcoming events and don't forget to pick up some cool swag!

Would you, your organization, or your business like to give back to the MD horse community by having METS as a beneficiary?

Contact Jess our Development Officer at Jessica@mdequintreansiton.org for more information!

This Saturday, METS will have a table set up at the Tuckahoe Equestrian Center's Celebration of the Horse! 
For more information please visit: 
Stop by and say HI! 


Benefit Tack Sale!    
Tack Sale on Sun Oct 24th to benefits METS!
Looking to sell or buy? 
Come visit and see what's available or set up a table to benefit METS!
There will be new & used tack, riding clothes, horse books, etc. 
For a $15 donation to METS, sellers get space in the well-ventilated indoor arena.
You must however provide your own table & chairs & reserve your space in advance.
The Tack Sale will take place, rain or shine at Misty Meadow Stables located at 2031 Millers Mill Rd. in Cooksville from 10-3, but vendors may come after 8:30 to set up.
Please contact host Terri Minford by email at ponymom@yahoo.com 
to reserve your spot ASAP!

The Maryland Equine Transition Service Needs Your Help!
METS is a program of the Maryland Horse Council Foundation, a 501c(3) registered Maryland Non-Profit. That means METS relies solely on donations from people just like you! METS offers many of its transition and end-of-life services for free, or at a reduced cost. Please consider a one-time or monthly donation to METS so we can continue to serve the Maryland horse community and ensure that no Maryland horse ever ends up in the slaughter pipeline.
Do You Have a Horse that Needs to be Rehomed?
Maybe you feel you are lacking time. Maybe your budget is reaching your comfortable max. Maybe you feel there would be a better match for your super horse. In our eyes, there's never a wrong reason. WE ARE HERE TO HELP! Contact us to learn more about our free service and how we can ensure your horse finds their next perfect home!

Email us today!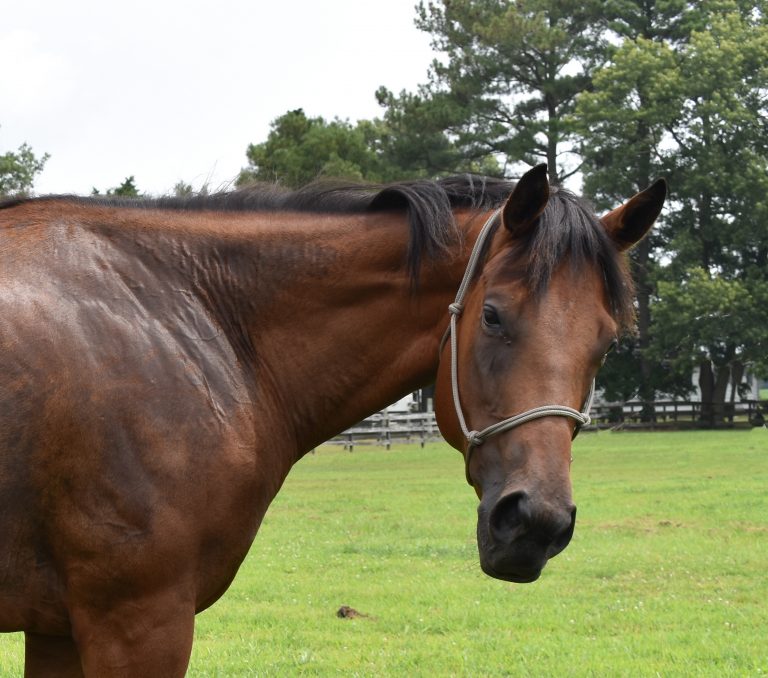 Chessa is sweet and as pretty as they come. She is a Thoroughbred mare that was foaled in 2016 and never raced. This kind young lady is looking for a forever home where she can continue to be loved, pampered, and have the very important job as a solid companion horse.
    Chessa is gentle and submissive to other horses but cares deeply for them. She sadly suffered a pasture injury as a 3-year-old. This left her with a fractured pelvis, that is fully healed but has caused significant muscle atrophy over her left hip and hindquarter area.
    She is only suited to being a companion horse due to her injury. Her current owner did have her evaluated as a broodmare. She is pasture sound and requires no special maintenance other than the usual TB care such as grain, good quality pasture/hay, and routine farrier care.
    Chessa currently lives out in a lovely paddock with two bigger and older TB mares that are in foal. Chessa was lovely to handle for catching, haltering, grooming, and general handling. She willingly picked up her feet but did show some expected stiffness with her hind legs.
Her current owner would love to see her go to a home that had a handful of horses. Where Chessa would continue to be loved as much as she is now but giving her a more formal role as a babysitter to another horse/s or foals.  Chessa would likely need an intermediate/advanced handler due to working through some slight herd-bound tendencies. However, she likely would be gentle and easy for children to groom and love on, while under supervision from her experienced handler.
 She is up to date with her vaccinations but is due for her teeth to be floated. Her current owner will pull a new Coggins for her prior to the transition.
Interested in Chessa?
Find more Info by clicking the link below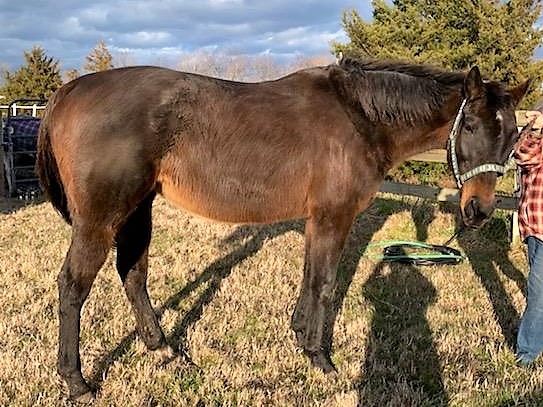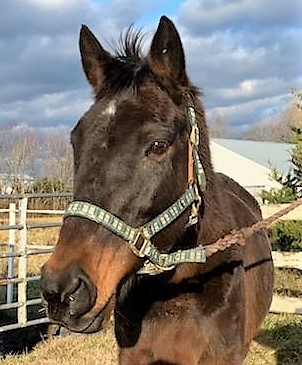 Always Meggie ("Meggie)" is a 1998, 16hh Thoroughbred mare looking for her next home. She earned almost $30,000 on the track before retiring to her current home. She's quite well behaved on the ground, but she's green under saddle, having never had consistent training after her race days.
    Meggie is sound, barefoot, and up to date on all vaccines (Coggins will be obtained before she's moved). She's best suited for an advanced rider/trainer, or someone working closely with the same. She's currently turned out 24/7 with a mare, though she has been out with geldings in the past with no issues. She is quite dominant in the herd.
    If you're looking for a training project, Meggie might be your girl!
Interested in Meggie?
Find more Info by clicking the link below

Are you looking for your next equine partner? Check out all our available horses in the link below and inquire for more info. We could be posting about your success story next!
https://mdequinetransition.org/horses/

The Maryland Equine Transition Service is a 501(c)(3) organization, which means we are a non-profit. Horses in need of transition come in every shape, size, breed, color, age, training level, and temperament. METS provides individualized services for these horses, including equine assessment, marketing assistance, end-of-life support, and facilitating the transition of horses to new homes. Your generous donation can help METS operate and continue offering these special services to both owners and horses in need!
To make a donation, click here!