Pi is a rather lovely 2015 TB Gelding. He is unraced but registered with the Jockey Club. He stands at 17.2hh and has incredibly good bone for his breed. He is a lovely stockier type, that is paired with a polite and gentlemanly disposition.
He would be best suited to an upper-intermediate or advanced home due to his size and medical history. Pi was diagnosed with Shivers, a neurological condition that affects movement. Currently Pi only has a restriction in his hind legs. This is seen when asked to back up or asked to pick up the leg for hoof care. In addition to this, Pi's confirmation shows that he is over at the knee.
Pi would be a fabulous quiet companion or lighter pleasure riding horse in the right home. He is super in a group and doesn't get overly excited. He is equally fine alone on trails.
Let us know if Pi is the right horse for you!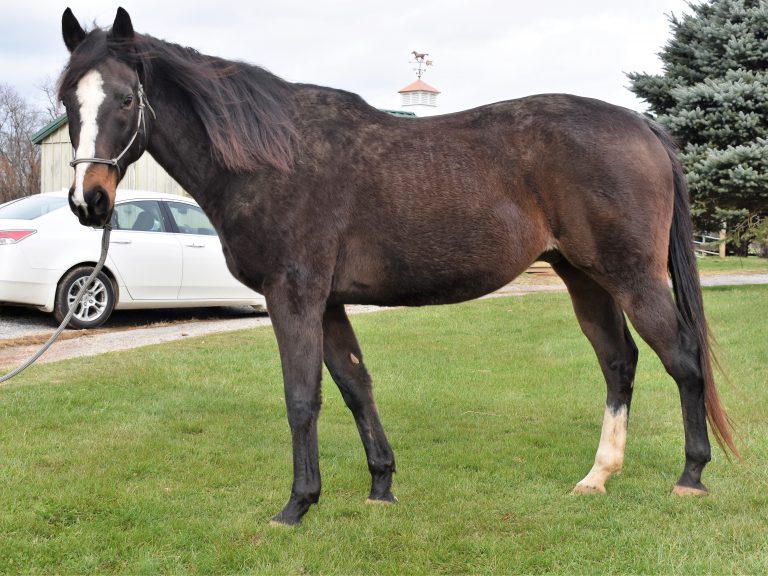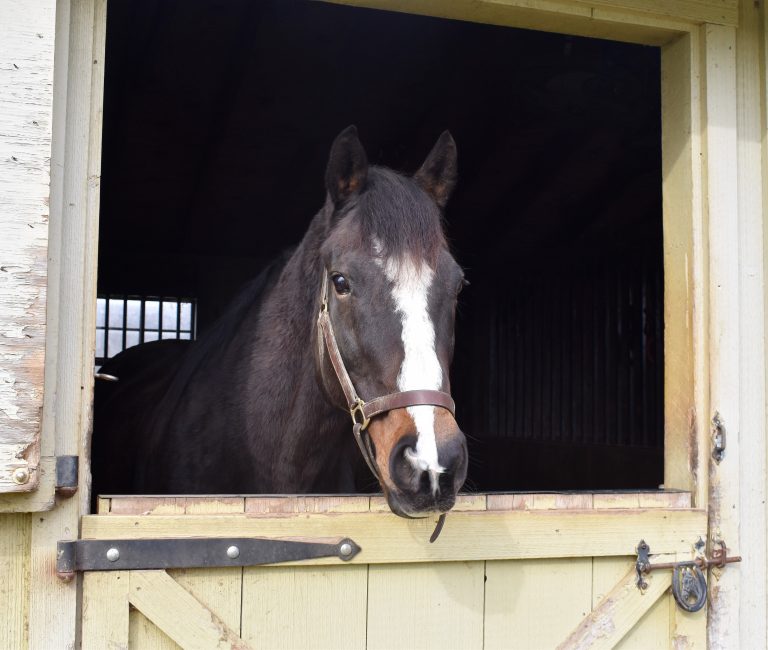 Stick to Roses ("Sticks"), a 2000 16hh Thoroughbred gelding, is a puppy dog of a gelding looking for a companion home. After winning over $16,000 on the tracks, he was retired from racing to recuperate from a cannon bone injury. He is pasture sound, barefoot, and up to date on all shots.
He is an excellent babysitter, and he has been asked to watch over a number of young horses. He has gotten along with every horse he's ever met! He is a snuggler, and he really wants to make his person happy. He'd probably really enjoy groundwork with a calm, gentle handler. He would do best with an intermediate handler, as he can be on the nervous side. If you're looking for a great companion horse to love on or one to keep your riding horse company, Sticks might be your guy!
Are you interested in providing a home for Sticks? Contact: horses@mdequinetransiton.org
Are you looking for your next equine partner? Check out all our available horses in the link above and inquire for more info. We could be posting about your success story next!
Summer May Be Winding Down, But METS Events Have Just Started!

Thank You For Your Support!
METS had a blast this past weekend at The Fredrick Area Dressage Shows (FADS) sponsored dressage show this past weekend hosted by Blue Horse Farm! METS kindly thanks FADS for their support and generous donation last weekend! Jess was there and enjoyed meeting all the new faces and reconnecting with familiar ones. Lots of excitement over the new METS gifts with donation swag items! Would you like to have METS as a beneficiary for your event?
The next chance to score some sweet swag with a donation to METS is on Friday, August 27th during the Horseland exhibit at the Maryland State Fair with Jess. See you there!


Join us at the Horseland SPECTACULAR 2021! Maryland Horse Industry partners will host 11 days of free equine educational and entertainment events during the Maryland State Fair. There will be a variety of equine demonstrations, children's activities, interactive booths and more. METS will have a booth with all our new swag on the following dates:
August 27

 

August 28

 

August 29

 

September 3

 

September 4

 

September 5

 

 

September 6

 

Waredaca Brewing Company presents Cheers to Charities! Raise your glass on Thursday, September 9th at Waredaca in Laytonsville where 10% of sales and tips will directly benefit METS! Waredaca will also have their Taproom Thursday Summer Schooling Series operating at the same time. We will have tables and representatives at both the jumper ring and taproom with new METS swag available for a donation! Stop by, say hi, and have a brew to benefit MD horses!
Volunteer Roll Call!
We are back to doing in-person assessments and events! Are you over 18 years of age and interested in helping us help MD horses? Are you currently on our volunteer list? Send us an email to confirm your volunteer status or to sign up!
Email: info@mdequinetransition.org