Elwood's Apple (Elwood) has been placed!
Congratulations to Elwood and his new owner, Ruth!
Elwood has successfully been transitioned to his new home. This handsome boy will be spending the rest of his days living on Ruth's property along with his new best friend, a paint named Mud Dawg. Ruth's granddaughter recently tried a western saddle on Elwood, and Elwood was a perfect gentleman.
Elwood meeting Mud Dawg for the first time
Elwood and Mud Dawg grazing together
Do you know a horse that needs transitioning?
METS is here to help you! If you or someone you know has a horse that is in need of transitioning to a new home, contact us! We are here to help make the process smooth and easy while finding your horse a safe and loving home. Start now by sending an email to info@mdequinetransition.org or call 410-970-6474.

Shadow
Shadow
Shadow, a 1999, 15.2hh Quarter Horse gelding, is looking for a home where he can be loved on! Arthritic changes limit Shadow to a companion home, but he is personable and kind, making him a great candidate for building a relationship with a new person! He's an easy keeper (currently on no grain), barefoot, and acts younger than his 23 years! He could do with some farrier and preventative veterinary attention, but he's in good shape otherwise. Shadow would probably really enjoy being in a home where his person played games with him, as he has a curious nature! He could make a great companion for a younger horse. Contact METS if you think he would be a good fit for you!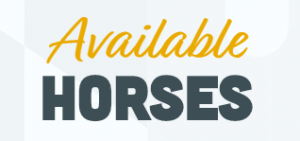 Are you looking for your next equine partner? Check out all our available horses in the link above and inquire for more info. We could be posting about your success story next!
Add Maryland Horse Council Foundation on Amazon Smile