METS Is Everywhere In MD!



From Timonium to Gaithersburg and everywhere in between, read on to find out where we've been!
METS At Horseland!


So much fun at this year's Horseland SPECTACULAR 2021! The Maryland Horse Industry partners hosted 11 days of free equine education and entertainment events during the Maryland State Fair. There were a variety of equine demonstrations, children's activities, interactive booths, and more. We were so happy to meet and spread the METS mission with everyone!



Waredaca Brewing Company hosted Cheers to Charities! We raised our glasses on Thursday, September 9th at Waredaca in Laytonsville where 10% of sales directly benefited METS! Waredaca had their Taproom Thursday Summer Schooling Series operating at the same time. We had tables and representatives at both the jumper ring and taproom with new METS swag that was available with a donation! It was so great seeing all the happy faces and glasses raised for MD horses. Special thank you and shout out to the entire Waredaca team and to Musu who did his best to help us attract people to our table!
Waredaca Taproom Summer Schooling Series
https://waredaca.com/schooling-at-waredaca/summer-schooling/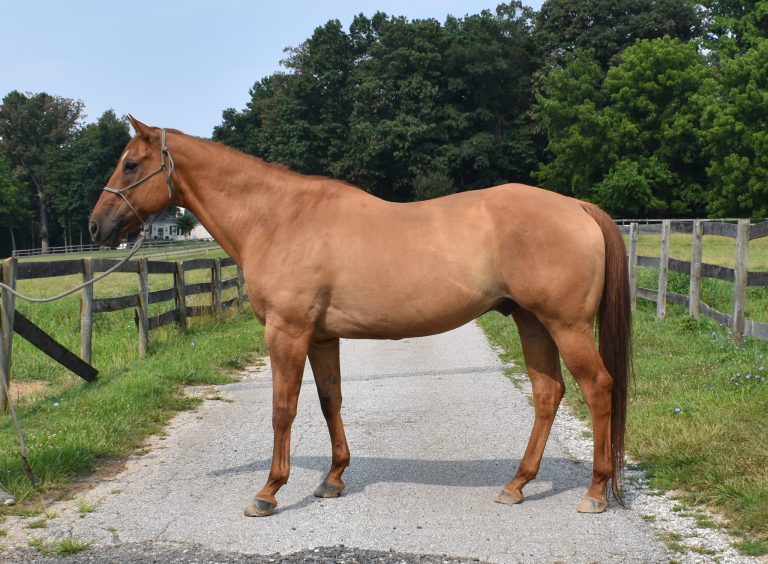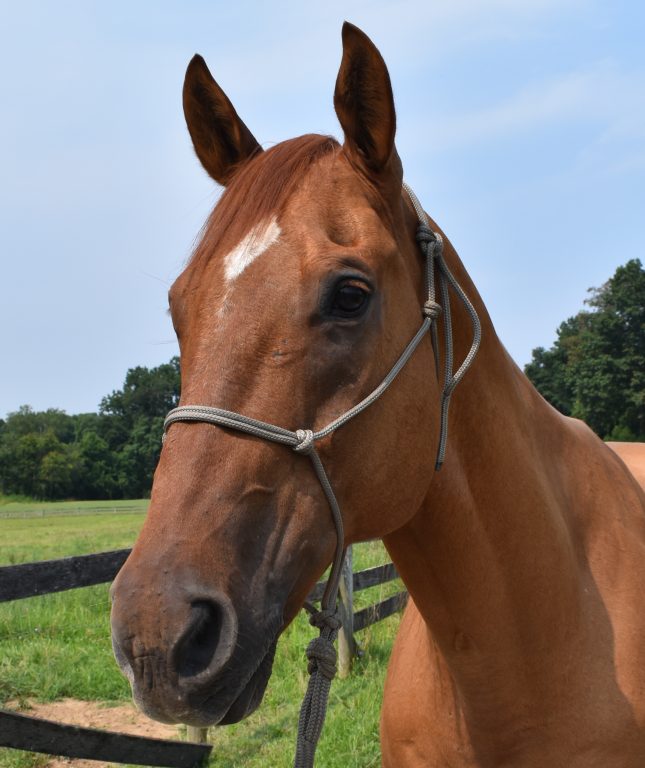 Denver is a very handsome 2005, Appendix standing at 16hh. This elegant guy is looking for a lovely place to enjoy as his new home. He was born at his current farm and raised by his current owner. He is loved and well cared for but due to downsizing, he is needing someone to take him on.
Denver is a friendly sweetheart, that is full of life with an engaging personality. He does have a history of arthritis, which his mother also had. This mainly appears to be affecting his front legs and left hind. He currently has front shoes with pads for relief. He has been out of consistent work for around  2 years so is demonstrating stiffness. Likely, with lighter and more regular work, a good maintenance plan (medication) with veterinarian and farrier, he will be a sounder riding partner. He will need to be brought back into work in a thoughtful way because of this or kept as a companion. Please note that Denver was not seen tacked or ridden for our in-person visit.
He is super for general handling; grooming, leading, cross ties, stall, farrier, etc. He's not a fan of flies (but who is?). He is fine to live alone but his owner would like to see him with or close to others. He'd likely be a great babysitter in the field for younger horses, as he tends to be the alpha and has a fun and playful character.
For ridden work, he would need an intermediate rider that has knowledge and understanding from a trainer, on how to bring a horse safely back into work and how to managed/ be aware of arthritic changes, etc. He'd be best suited to flatwork in the ring as an English, Western, or pleasure type of horse. It was noted that he hasn't been on extensive trails but he'd likely enjoy those. His current owner prefers for Denver not to be a part of lesson programs with multiple riders at this time.
Denver does crib but currently does not use any method to control this (at the owner's preference). He loves mints and sometimes is a little nippy. He has an impressive disposition for being the only horse in the barn. He was quite tolerant of his rambunctious canine friend that joined him for most of his assessment! He enjoys spending time with kids and teens.
He is up to date with the farrier, vet visit, and Coggins. He does need a booster shot prior to him finding his new person. His current owner will take care of this.
Denver is priced at $1,500. His owner has generously offered to donate that amount to METS when Denver has been transitioned!
Interested in Denver?

Let us know by visiting the link below and submitting your inquiry! 

Denver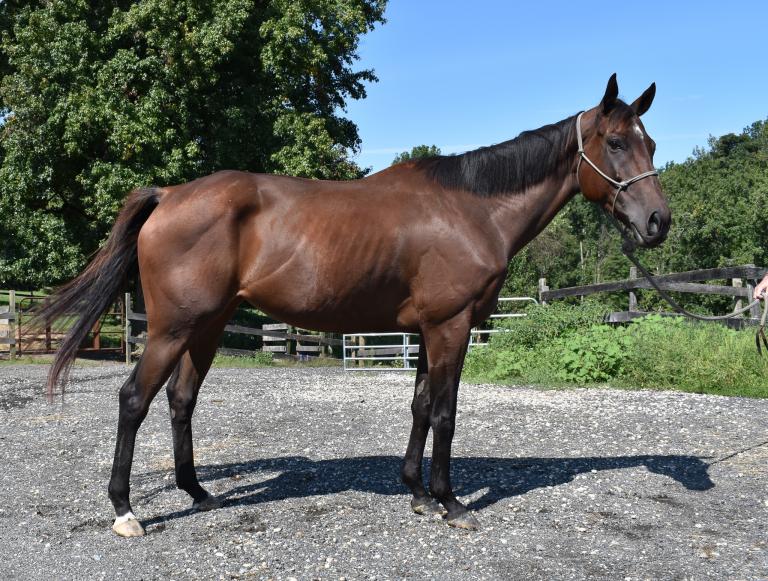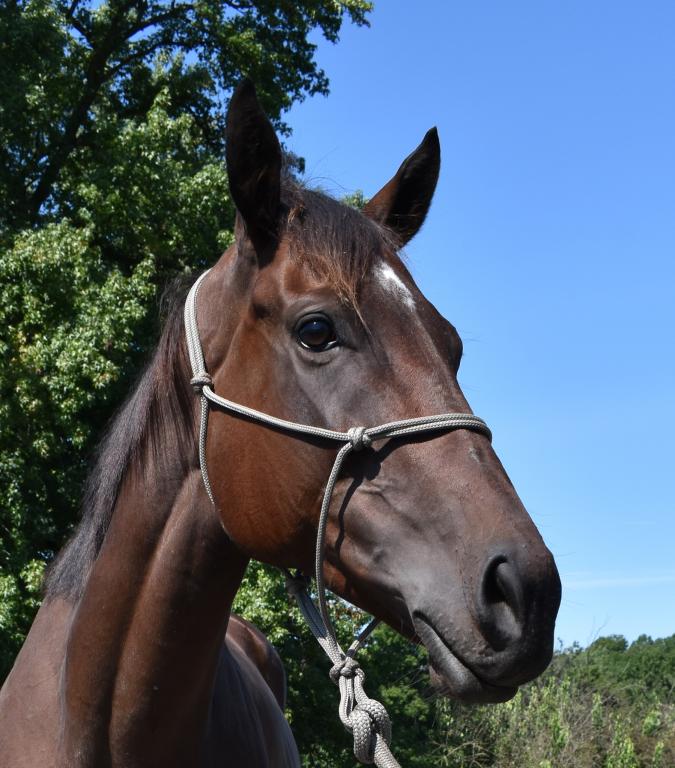 Shane is the most adorable little mare you may ever have the pleasure to meet. Standing at a petite 15hh and born in 2015. This Thoroughbred mare was unraced and is registered with the Jockey Club as Mighty Crossing. This sweet girl is looking for a long-term home where she can be loved and pampered as a companion, lead line, and walk-only horse. Her owner would enjoy seeing her go to a home where she can be surrounded by sweet children and trusted by her adult handler for grooming, possible lead line trail rides around nice grassy fields.
Shane left the racing industry in late 2020. She had time to rest but did come with a past of poor hoof care. It was clear to her current owner that she had not been managed correctly leading to unsupported hooves and the issues that come along with that situation: brittle hooves, sensitive soles, and foot abscess. It was discovered that Shane was not sound in front after her period of recuperation even after the correct hoof care was provided. Further investigation with x-rays confirmed and diagnosed Osteoarthritis in her front right pastern.
Shane is currently unsound and would likely benefit from shoes with pads. She receives pain medication daily to keep her comfy and happy. She is pasture sound and with corrective shoeing, and possibly joint-related veterinary treatments, her comfort, and general soundness will improve/be maintained. A home with grassy fields and softer terrains will be ideal. She would likely be ok for very light work, but a new owner will need to be aware that Osteoarthritis cannot be cured and is degenerative.
She has had Clinton Anderson training with her current person and has responded very well to what is asked and expected of her. Please note that although she does have any wonderful temperament, she would be decided as being 'green' due to the fact that she has only had a handful of short rides since coming off the track. It is suspected she would be fine on trails, but the history is unknown.
Shane has the most amazing disposition. She is a real gem who is kind and willing. She is friendly and gentle. She is loved by all that meet her. She is a farm favorite with stable managers and farm owners. A very sweet and straightforward girl who just loves people and other horses alike. She has only been ridden a handful of times during her time with the current owner. It was reported that she was just as easy in the saddle as she is out. She has lovely paces and is comfy to ride. Of course, we did not ask to see Shane under saddle during her evaluation due to her current soundness level. When ridden in the past, she was ridden English and in a simple snaffle bridle. She was intended for the Hunter/Jumper world after leaving the track.
She currently lives at a farm that adjusts turnout per season. Shane is perfectly fine to be field kept with access to shelter or stabled with daily turnout. She passed every single handling test on our METS 'check list'. She's amazingly wonderful in our eyes!!!!!! She is docile in the herd and gets along with mares and geldings. She also gets along with dogs and other farm activities.
She is up to date with her vaccinations, health checks, dentistry and has negative Coggins. She is currently barefoot but as mentioned above, would benefit from shoes. She even comes with a very appropriate unicorn flysheet and fly mask – especially seeing as she's a perfect little unicorn herself.

Interested in Shane?

Let us know by visiting her link below and submitting your inquiry. 

Shane

Are you looking for your next equine partner? Check out all our available horses in the link below and inquire for more info. We could be posting about your success story next!
https://mdequinetransition.org/horses/

The Maryland Equine Transition Service is a 501(c)(3) organization, which means we are a non-profit. Horses in need of transition come in every shape, size, breed, color, age, training level, and temperament. METS provides individualized services for these horses, including equine assessment, marketing assistance, end-of-life support, and facilitating the transition of horses to new homes. Your generous donation can help METS operate and continue offering these special services to both owners and horses in need!
To make a donation, click here!