The day of the Maryland Equine Transition Service's first annual Benefit Fun Show was met with sun, chilly temperatures, and a lot of wind. High Ridge Farm sits nestled in the hills of Manchester (Maryland) with a constant breeze that blows through the property. If you ask any of the barn regulars, they'll tell you they're used to it. Even the horses didn't seem to mind the occasional commotion as items from the food booth and silent auction were blown off their tables in particularly strong gusts – it's all old hat to them. Despite the wind, the show was a huge success and brought in just over $2,000 through entry fees, silent auction bids, food booth, and generous donations made by the families in attendance. Riders came decked out in their Maryland pride and it was rare to see someone without a smile on their face. The many helping hands of volunteers were part of what made the day go on without a hitch, but it wouldn't have happened without the extreme generosity of Candy Cole.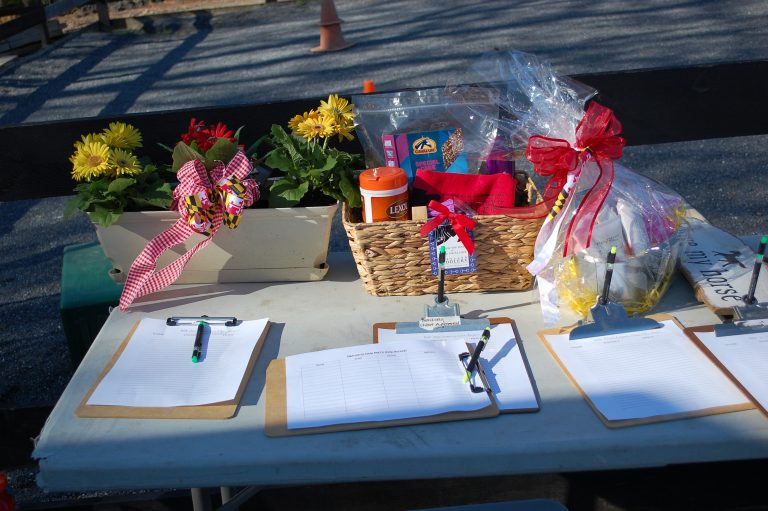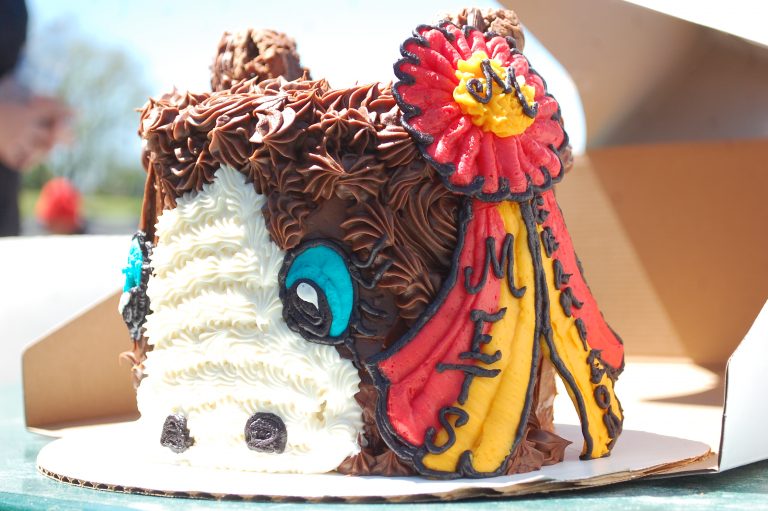 Cole has owned the property that High Ridge Farm sits on for 34 years and started her lesson business in 2002. From there, her program has blossomed to include multiple benefit shows a year, a 4-H club, scholarships, and a Maryland Horse Discovery Center. Cole and her High Ridge crew can often be found at the Maryland Pet Expo, the annual Manchester Festival, the Future Farmers Of America Convention, and 4-H rallies. As a Maryland Horse Discovery Center, Cole also hosts a Fall Fest with pony rides, pumpkin bowling, hay rides and other fun Autumn activities. In 2015, The Maryland Horse Industry Board launched a statewide network of 35 Horse Discovery Centers in 15 counties throughout Maryland. The goal of these Discovery Centers is to welcome people of all ages and experience levels to learn about horses in a friendly and knowledgeable environment – an initiative that Cole takes seriously.
"At the Pet Expo, we a had a little girl come [from the Towson area] and that was her first experience, was the pony ride. And then she wanted to come and take a lesson," said Cole.
"Most of the kids here, this was their first horse experience. Probably 90 percent of my kids were. And then they go from the Horse Discovery Center, come here and see the horses. And then when they're older, they join 4-H and get involved that way," she continued. "We have a lot of kids that the horses have taken them far."
Cole likes her students to have a hands-on approach to learning and believes that's what keeps them coming back wanting to learn more.
"Some places are all about the riding. You go and your horse is ready and you get on and you ride. And [at High Ridge], we really want them to know about the horse. So when they get here, they go get the horse, they groom them, they learn how to tack up." said Cole. "My [logic is] keep them interested, keep them wanting to learn, and they'll come."
On Thursday nights after lessons are over, Cole said her families come together and have a group dinner. They switch off who brings the food and every week her students sit down and eat together, sometimes not leaving until 8:30 at night despite some of them arriving at the barn at 3pm. Cole also hosts hippology nights about horse care and horsemanship in hopes that her riders always leave with new and valuable information.
"I took each one of the kids and they had to hold a lead rope like it was a bit," explained Cole about one of her lessons. "I showed them how if they pulled to the side or if you used the same amount of pressure and pulled to the hip, how much easier it was on the horses mouth. Because they were the horse!"
As if Cole didn't already have enough on her plate, she also hosts four benefit shows per year. The benefit shows were originally created 11 years ago to honor Ryan MacKenzie, a friend of Cole's family who died in a car accident when he was only 21. High Ridge created a scholarship in MacKenzie's name and when the money ran out, they decided to start hosting benefit shows as a way to keep funding the scholarship. The first benefit event was a Halloween show where they raised $1,500. Since then, Cole has raised $30,000 to put into the Ryan MacKenzie Memorial 4-H Scholarship with The Carroll County Community Foundation. The most Cole has ever raised at one benefit show was $46,000. For Cole, the benefit shows are not about her business – it's about helping the community around her and encouraging her young riders to keep following their passions.
"I don't like to give the kids money, but I would give them the opportunity to earn it," explained Cole. "I coach the high school judging team at North Carroll [High School] and they needed to raise the money to go to the Big E. They had a show. The Manchester Valley's meat judging team – they went to the national FFA Convention to judge meat and their ag-mechanics. They didn't want to do a horse show, but I gave them the opportunity at a horse show to run the food stand and to have a silent auction. They did about a thousand dollars day. Last year at the Carroll County Fair, we gave out 10,000 dollars in scholarships to 4-H going to college.
"Somebody said to me once, 'Well, what do you get out of this?'," Cole continued. "It's not what I get out of it, because I do believe you pay it forward. It's [about] that girl that graduates and has no student loan debt. She's going to be able to do so much more so much sooner in her life."
Cole currently owns two horses that she's adopted from METS: Lakota and Hillcroft KD. Cole also had been housing another METS horse, Jewel (now known as Bonnie) until her new owner could move her home. Cole explained that she has never gotten a horse from a rescue before, but often barns will contact her when they have a horse they don't need or isn't fitting in their program. In an industry that is often quick to retire or sell a horse when it can no longer meet the needs of it's current owner, Cole is willing to look past rough edges to see the diamond underneath. This mindset often works for her, and her fields full of happy horses are enough to prove it. She has a Pony of the Americas that wasn't working out at an upper level dressage barn and now has fit into her program for three years; A Thoroughbred that was burnt out from the hunter ring that's now loving his new job as a Western horse; A pony with cataracts that still loves doing beginner lessons a couple times a week. Lakota is an older Arabian/Paint cross that came into the METS program when his owner began experiencing time and financial restraints. The gelding is a very slow and steady type perfect for beginners and while his age might have been a deterrent to others, Cole knew he would be a great addition to her program.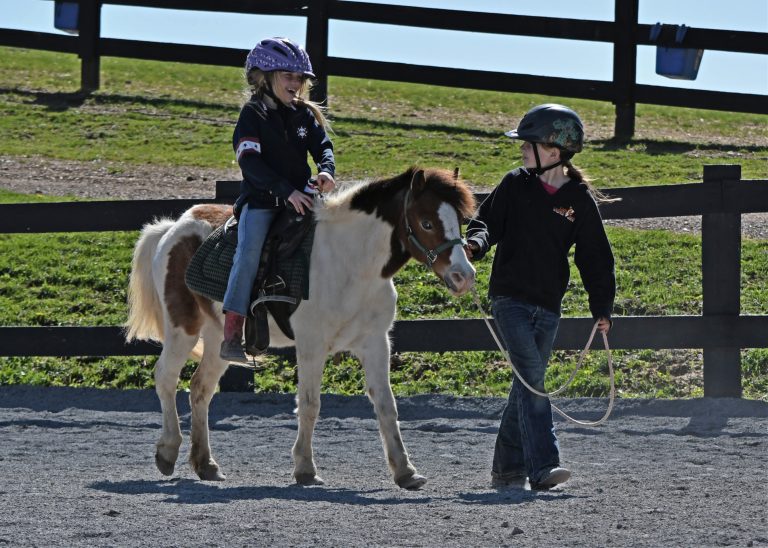 "I don't care if sometimes [a horse] can only walk and trot. I don't need them to be fast," said Cole. "I do believe that some of them are so grateful for the life they get that they will give a lesson to a kid for an hour a day. This is an okay life!"
Hillcroft KD was the very first horse put on the METS website and despite having an impressive record of points through the American Shetland Pony Club and being in their Hall of Fame, she was struggling to gain interest. She required a dry lot and didn't seem to love having beginner riders on her back. Cole took a shot on the little pony and said that she has been giving leadline rides and even remembers everything from her cart pulling days.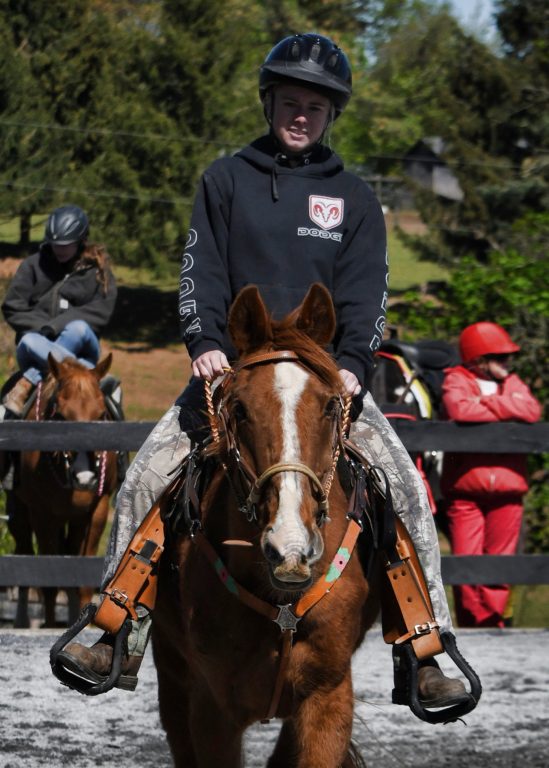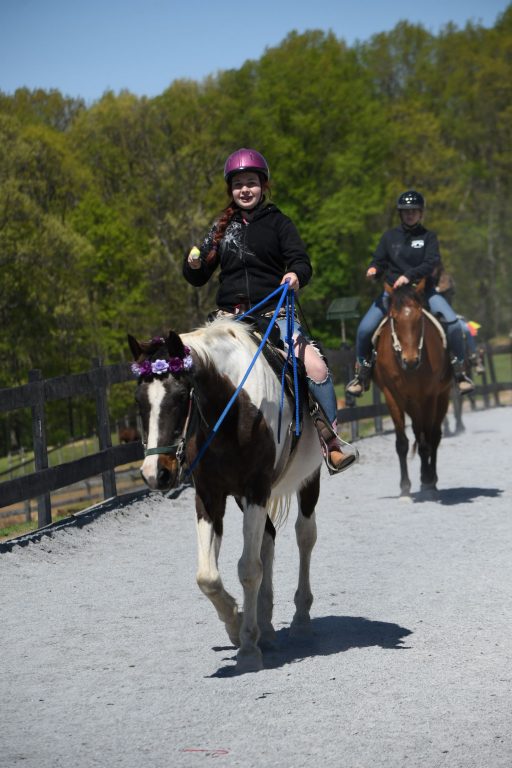 There's no doubt that Cole is fostering the love of horses and thirst for knowledge in future horsemen and women of Maryland. To her, that's really what it's all about.
"I just always think that maybe somewhere down the line, [my students] will think, 'Oh, this person made a difference,' " said Cole. "If they get something out of it and they learn something and they take it with them, that's my reward."
Thank you to all the High Ridge volunteers who came out to lend a hand, and a very special thanks to our awesome METS volunteers who helped out during the day: Nancy, Susan, Josh, Roberta, Sandy, and Allan .
Check out the link with more photos below from our photographer, Cynthia!
https://metsbenefitfunshow.shutterfly.com/pictures/132#132
Make sure to check out High Ridge Farm on Facebook and their website:
https://www.facebook.com/pages/High-Ridge-Farm/122553457822958
https://high-ridgefarm.com/