Can you believe January is almost over? Phew! There were a few snow storms already throughout Maryland, and we still have more to come. Colder temperatures mean frozen ground, frozen water troughs, frozen hoses and frozen noses. Here are some handy tips to make sure you and your horse are happy and healthy battling winter.

Check waters often. Horses can drink up to 10 gallons of water a day. Make sure to break or remove ice. Electric trough heaters and heated buckets are great options to help prevent frozen water.

Provide plenty of hay. Horses eat about 2% of their body weight a day in grazing and munching hay. Hay also helps a horse produce body heat. Providing free choice hay like a round bale or flakes in a slow feed hay net can keep a horse munching. If you need help moving hay around in the snow, use a sled!

Running extension cords? Use heavy duty pipe or old hoses to line your electrical cord in. This can help prevent horses from chewing on the cord or stepping on them.

Prepare for frozen water lines. Install heat tape on hydrants to help prevent it from freezing. Fill spare jugs with water and keep them in a warm place, or bring them from home. Keeping an electric tea kettle at the barn can allow you to warm water up quickly to soak hay cubes or thaw out frozen clasps.

Ice balls forming in their hooves? Spraying non-stick cooking spray can help prevent the snow from sticking.

When needing to melt ice on pathways, ice melts can be harmful to horses. Instead use water softener salt pellets or sand to cover icy areas.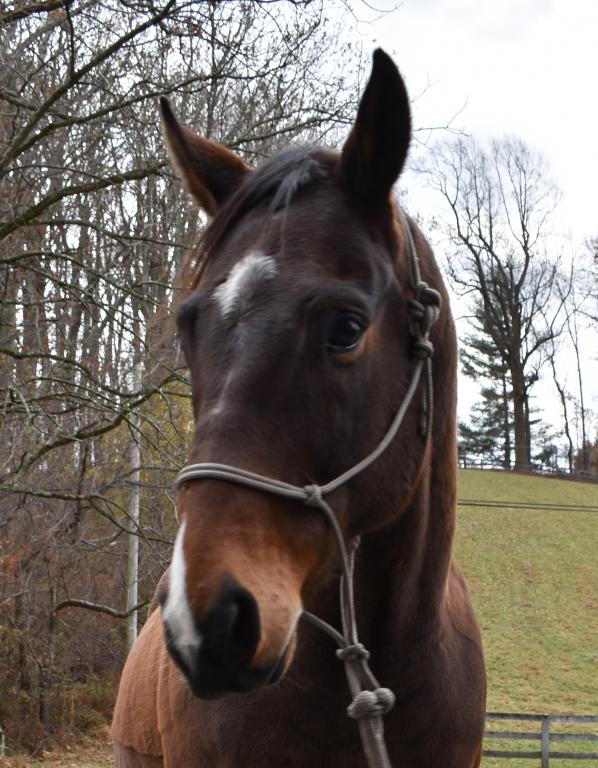 Markhan is a bright and very kind thoroughbred gelding that stands 15.3hh.  He was born in 2013 and is a phenomenally well-bred horse, imported from Great Britain. He was a successful steeplechase horse and now finds himself living at a Fox Hunting farm. He is looking for a pleasure riding home, maybe suited to a wonderful, loving teenager that enjoys ring work and lighter trail work. He would also be suitable, and a lovely addition, to a good quality lesson program.  His current owner would be open to him going outside of the state.
Markhan has more recently been in training to fox hunt. He was hunted second field and started over fences. He has six months of training with a professional and is believed to make a very nice riding horse for somebody. He is still green, and if the rider is more novice they would be needing to work with a trainer to bring him along. He does have some soundness issues which has led him to not be suitable for the adventurous life of a full time hunting horse.

He had bone chips removed from both front fetlocks, had an injury to his left front check ligament and right hind stifle. Veterinary notes are available for fully screened applicants. He has had injections to help manage any discomfort and does have some arthritic changes due to the previous injuries mentioned. There does also seem to be a bone chip in his left fetlock, but the veterinary has cleared him for light work as is. If being considered as a riding horse, which he could well be, he will need thoughtful maintenance. He will also need a home with exceptional footing so not to add to his concerns. He seemed very happy and sweet under saddle not at all showing behavioral issues or complaints of work that would be related to discomfort. His owners have made a wonderful decision to find him a more suitable home where he can continue to have a super riding career.
Markhan was a pleasure to spend time with him from being caught in the stall, led out to the crossties, grooming, tacking and then seeing him head out down the lane to hack out towards the ring for a short warmup. He was forward thinking ready to work but maintained composure and sweetness under saddle. We saw him head out and do a little off-roading crossing a small stream into the field. He worked in the field calmly and willingly in a very focused manner. Even received video of him popping over a log in the field later on that day. This guy is a phenomenal horse. He has jumped up to 2ft 6 and has competed in hunter paces. He has a great brain and a wonderful personality. This boy is going to make a lovely addition for someone.

Are you looking for your next equine partner? Check out all our available horses in the link below and inquire for more info. We could be posting about your success story next!
https://mdequinetransition.org/horses/
Did you know you can donate to METS through the Amazon Smile program? Click the red box below to learn more!
Would you, your organization, or your business like to take a stand against slaughter as well as give back to the MD horse community by having METS as a beneficiary?